IT Spec page
IT

IT jobs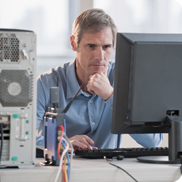 Specialising in permanent and contracting IT jobs, our experts not only know their sector inside out but they have a vast network of contacts across all spheres of the IT industry in Sweden.
Recruiting for all IT jobs, you can rest assured that our specialists will guide and advise you throughout the recruitment process to ensure that you find the IT job that is right for you in Stockholm.
Our consultants develop lasting relationships with their candidates and they have an in-depth understanding of their specialism and market, keeping up-to-date with all the latest trends and industry developments.
If you're looking for your next permanent or IT contracting job, then take a look at some of the roles on our site or call one of our experts. We'd be delighted to talk to you about your requirements.
View all jobs